LinkedIn launches Volunteer Marketplace in the UK
Business social network LinkedIn yesterday launched its Volunteer Marketplace in the UK. Launched in the US last year, this service enables LinkedIn users to volunteer their skills and time, and for charities to post volunteer opportunities to find the right volunteers.
LinkedIn, the oldest of the major social networks, now has over four million people around the world who have added their volunteering interests on their LinkedIn profile. In the UK there are over 250,000 so far, out of the 17 million users, but the company expects this to grow considerably.
Volunteer partners
LinkedIn has been trialling the Volunteer Marketplace since last year. Its two lead partners are REACH Volunteering and Do-it.org, but they are working with other organisations such as youth volunteering specialists vInspired.
It has already helped find dozens of people who have volunteered as school governors.
LinkedIn employees themselves have used it to find volunteering opportunities, for example at The Prince's Trust.

Skilled volunteers and board members
VolunteerMatch, part of LinkedIn's LinkedIn4Good programme, is designed to help charities with two volunteering challenges:

1. finding volunteers with particular professional skills

2. finding volunteers who want to serve as a board member or trustee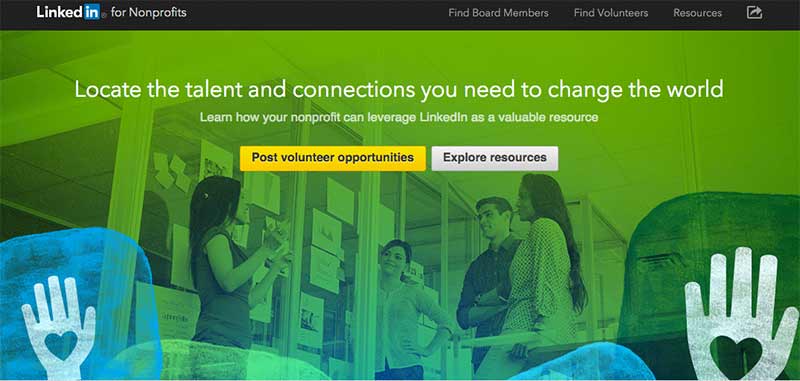 How to volunteer
Charities can encourage their LinkedIn users to volunteer their skills and experience by completing the volunteer section of their LinkedIn profile.

How to find volunteers
Charities can post volunteer opportunities on LinkedIn for Nonprofits. There is a modest fee – 10% of the standard cost to post a job on LinkedIn – which LinkedIn explained was to ensure the facility was not misused. LinkedIn says it will reinvest this income in the service.
But charities can post at no charge if they post their advert via the two lead partners REACH Volunteering and Do-it.org. Adverts posted there will also access LinkedIn members.
There could be competition: over 200,000 charities have a company page on LinkedIn.

First opportunities emailed today
From today LinkedIn will be emailing UK members who have posted volunteering skills, sending them details of relevant opportunities.
Ariel Eckstein, Managing Director, LinkedIn EMEA, said at last night's launch:
"We have hundreds of thousands of professional members who want to volunteer their skills but, until now, there was no easy way for them to connect with charities through LinkedIn.


"We're launching the Volunteer Marketplace today to solve that. By applying what we do best – connecting talent with opportunity on a massive scale – to the social sector, we want to help UK charities recruit the skills they need to tackle some of the world's most pressing challenges."