14 fundraising ideas from Giving Tuesday 2015
Giving Tuesday returns on 1 December 2015, the second time that this festival of giving time or money has been officially promoted in the UK. Here is a round-up of some of the many activities taking place.
First, a humorous and wishful idea of what Giving Tuesday could be like. We already know from CAF research that 35% of Britons say that they will give t charity on Giving Tuesday. But imagine if the excitement around the day was the same as for Black Friday. Can you picture people sleeping out at night to queue to make their donations?
Here's what that might look like:

[youtube height="450″ width="800″]https://www.youtube.com/watch?v=zEkeZah51eQ[/youtube]

1. Corporate donations

To mark #GivingTuesday Exeter-based pharmaceutical software specialist Rx-info is donating £3,000 to local Devon charity, Rainbow Living.
Company founder and Director Colin Richman pledged his support to Rainbow Living in order to help reach the fundraising total of over £450,000 that is needed to purchase the third Rainbow property that will provide accommodation for a group of young disabled adults. The current total stands at £385,000.
In addition, the company has also secured the help of PR consultancy KOR Communications, to provide PR and social media support for the Rainbow Living team of volunteers. KOR will offer advice, assist with fundraising campaigns and raise awareness of the charity amongst potential supporters.

2. Virgin Money Giving and matched donations from PayPal


Online giving platform Virgin Money Giving is teaming up with Giving Tuesday UK and PayPal to encourage people to donate to charity on Giving Tuesday.
If donors use PayPal when making a donation on Virgin Money Giving on the day of #GivingTuesday, 1st December, PayPal will match 1% of all donations received, and Virgin Money Giving will pass this directly on to charities.
Indeed, PayPal is aiming to set a new Guinness World Record for the most money donated online for charity in 24 hours with a global 1% match on all donations.
Here is Virgin Money Giving encouraging charitable giving as a form of detoxing from Black Friday:

[youtube height="450″ width="800″]https://www.youtube.com/watch?v=xvRnVUvySN8[/youtube]

Advertisement
3. Ask what your supporters are doing
Your charity might have plans for promoting its work around Giving Tuesday. But what are your supporters doing for the day to help you? Have you asked them? Do you plan to thank some of them?
Marie Curie does:
Tell us what you've done to help us & we'll send you a special thank you, tomorrow on #GivingTuesday ??? pic.twitter.com/RLb0GXpOSP

— Marie Curie (@mariecurieuk) November 30, 2015


Listening to donors is an exercise that repays again and again. So here is another chance:

[youtube height="450″ width="800″]https://www.youtube.com/watch?v=exDQ9K1Vwmc[/youtube]

4. Matched giving from Localgiving
Online giving platform Localgiving is running a one-day matched giving campaign on Giving Tuesday.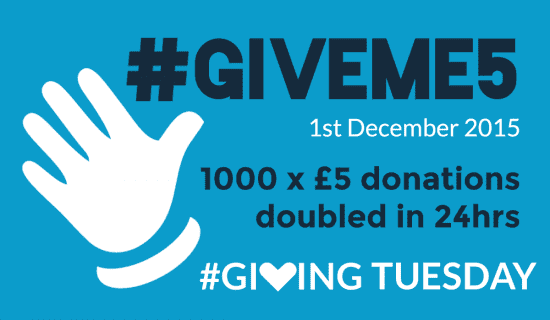 It is a one-day version of its successful #GiveMe5 campaign in which it will match 1,000 £5 donations on the day. In January this year the campaign raised the maximum £25,000 within the one day.
Funding for #GiveMe5 campaign has been provided by the Office for Civil Society in conjunction with a private philanthropist.

On #GivingTuesday we're matching 1000 x £5 donations with support from @minforcivsoc @cabinetofficeuk #GiveMe5 pic.twitter.com/1Xdwq6sf66

— Localgiving (@Localgiving) November 26, 2015
5. Making the most of Manchester
Manchester is the first #GivingTuesday city with its Manchester Gives More initiative, involving, for example, Manchester City Council, Manchester Community Central, the University of Manchester, Manchester Chambers of Commerce and the Royal Exchange Theatre.

6. RBS staff giving matched
Does your charity have any supporters who work for RBS? If so, you might want to invite them to donate to your charity on Giving Tuesday. On the day, RBS will matching staff giving with a £500,000 pot of funding.

7. Encourage online giving
Based on last year's experience plenty of people are likely to be donating online, so encourage your supporters to do so. In 2014 JustGiving reported a 45% increase in donations compared to previous years, and Blackbaud reported that donations in the UK went up by 270% compared to the previous year, and were up 43% on any other Tuesday in the year.

8. CAF matching gifts for new accounts
You will have noticed that matched giving is a hallmark of Giving Tuesday. Charities Aid Foundation is joining in by matching up to £120 donations for those who open a CAF Charity Account on 1 December.

9. 1,400 partners
This year there are 1,400 organisations involved including many major corporates.
For example, supermarket Morrisons is raising funds for their charity partner Sue Ryder with a national bag pack, staff Christmas dress and any pensioner dropping into a Morrisons café between 2.30 and 5pm will get a free mince pie and drink.
In addition Morrisons stores will sell a range of virtual gifts. Customers looking for a stocking filler can donate £5 towards Sue Ryder's community nurses or family bereavement support and receive a fridge magnet to pass onto their loved one or keep for themselves. The gifts, costing £5, will be on sale at every checkout and "could raise hundreds of thousands of pounds for Sue Ryder".




You can search for other Giving Tuesday partners.

10. Make Giving Tuesday your charity's day
Cancer prevention charity World Cancer Research Fund is using Giving Tuesday to launch a new digital campaign, #GivingMyDay, to mark its 25th anniversary.
The campaign is about getting people to make a difference on their birthday by #GivingMyDay. They will be raising funds for research and awareness of the link between cancer prevention through diet, weight and physical activity.

11. Remind your supporters that you are a charity
Some organisations such as arts and culture organisations don't always promote their charitable status. They are an arts organisation first, and charity second.
Arts Council England's Director of Philanthropy Clare Titley is encouraging arts organisations to use Giving Tuesday as an opportunity to remind supporters and audience members of their charitable status, and all the methods of giving that are open to them.
She blogged on ACE's site:
"If you work for an arts or culture organisation, it's an opportunity to tell your story. To get the word out about how much your work benefits the everyone in your community
"I would love to see more arts organisations and museums using the day to shout about the work they are doing and to encourage people to support them. It feels like a brilliant chance to increase awareness of these organisations as charities, and to let people know how they can play a part in the wonderful work they do".
12. Having some fun on Giving Tuesday
Rethink Mental Illness is, like many other charities, encouraging the public to support it on Giving Tuesday with donations. But it is also adding in a dose of humour.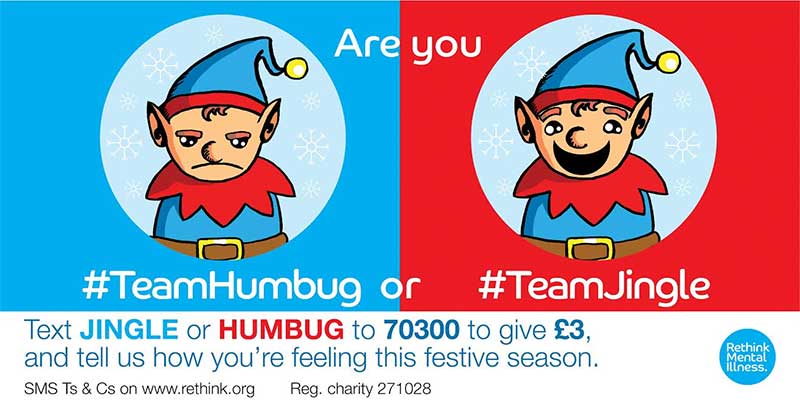 Fiona Magor, Rethink Mental Illness Individual Giving and Events Manager said:
"We are calling on all those for or against this Christmas season, to make a £3 SMS donation and discover their 'mental elf' by sending a text with either the word 'JINGLE' OR 'HUMBUG' to 70300.
"We will be tallying the messages we receive to see how our supporters are feeling about the festiveness – pretty right-on tinselly or sick to the egg-noggy core of carols, decorations and all things jingly".
The charity will also be selling its 2016 Colouring-in Calendar, drawing on the interest in adult colouring as a support for mental wellbeing.

13. Everydayhero Giving Tuesday competition
This year online giving platform everydayhero is running a Giving Tuesday competition, with a prize fund of £1,000 on offer.

14. Recipes for success on Giving Tuesday
Farm Africa aims to stand out amongst charities' appeals on Giving Tuesday by partnering with three successful British chefs who have created recipes especially for the charity to help promote its Christmas appeal focusing on its work with primary schools in Nairobi, Kenya.





All three recipes created for Farm Africa's #GivingTuesday appeal feature ingredients that will be grown in the schools' gardens:
– Successful chef, restaurateur and caterer Kevin McFadden has created a tasty African Meatballs recipe.
– Food writer and chef Rosie Sykes has devised a delicious Vegetble Gratin with Spicy Tomatoes.
– Cabrito Goat Meat supplier and former River Cottage chef James Whetlor a flavoursome African-inspired Kid Shank dish.


The campaign is getting support from the food industry trade press and food bloggers.
Food processors ABP Food Group and poultry supplies Moy Park are match funding online donations between 17 November and 1 December. Moy Park has provided an added gift of a Christmas hamper which the charity is giving away in a Twitter competition, with the winner being someone who starts following @FarmAfrica and @MoyPark and retweets about the competition.


Need more inspiration for Giving Tuesday?
If you still need fundraising ideas or inspiration for making the most of Giving Tuesday, follow the #GivingTuesday hashtag on the day.

#GivingTuesday is led by @cafonline. See their infographic full of ideas ahead of tomorrow: https://t.co/KJMHCgTYwB pic.twitter.com/w9fe39W0ej

— #GivingTuesday UK (@givingtuesdayuk) November 30, 2015
True wisdom. #GivingTuesday pic.twitter.com/5KhsIs2XbV

— Gates Foundation (@gatesfoundation) November 30, 2015
Tomorrow is #GivingTuesday, a chance to come together to show the world why it's good to give! pic.twitter.com/GbeqMaZxaa

— Cancer Research UK (@CR_UK) November 30, 2015
Tomorrow is #GivingTuesday! Here's a message from our Curator Betsy Wieseman #RubensAppealhttps://t.co/rddtVpFNaZ

— National Gallery (@NationalGallery) November 30, 2015
For every baby photo uploaded, we'll donate to @SaveTheChildren. Join us this #GivingTuesday https://t.co/i6ep3J8pJp

— Johnson's Baby (@johnsonsbaby) November 24, 2015


Expect quite a few #unselfie posts too. These arose a couple of years ago on Giving Tuesday.
Tomorrow is #GivingTuesday! Share an UNselfie &let us know why you're #GivingforParkinsons https://t.co/uYsylBVUEA pic.twitter.com/39reQ7qkuX

— Parkinson's UK (@ParkinsonsUK) November 30, 2015