Telephone fundraising agency Karat opens in home town of R Fundraising
New telephone fundraising agency Karat Marketing opens for business today, based in Dunfermline, Fife, home to former telephone fundraising agency R Fundraising which closed in August. Twenty five of the new agency's 30 staff previously worked at R Fundraising.
Karat serves clients throughout the UK. It already has four clients, three of them based in Scotland and one in London. It will begin work with five more next month.
The agency is a joint venture between Revolutionise, based in Fort Augustus, Scotland and Dialogous Fundraising, based in Copenhagen, Denmark. Revolutionise's Alan Clayton will chair the board and Dialogous Fundraising's Jacob Rolin is director of fundraising services. Peter Saxkjaer, also a director of Dialogous Fundraising, is managing director of Karat.
Alan Clayton was chief executive of R Fundraising for just under three years until 2013.
Sharon Comfort and Lauren Semple, former senior account managers at R Fundraising, have joined Karat as client services directors and will manage the call centre. They are joined by Hugh McCaw, a  founder of R Fundraising, as a non-executive client services director.
Despite recruiting many former staff of R Fundraising, Clayton made it clear that Karat is a new agency, with no continuation or assets from R Fundraising.
Karat?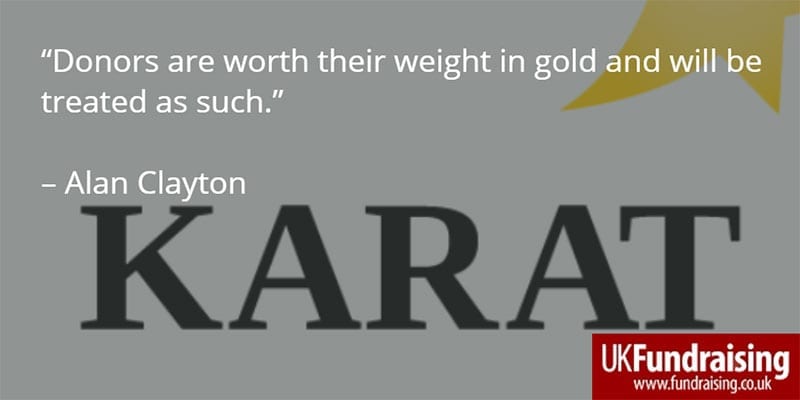 Clayton explained that the name 'Karat' has been chosen to emphasise the philosophy of the new agency, namely that "donors are worth their weight in gold and will be treated as such".
He also explained why the agency had been established quickly.
"There is huge demand for high quality, donor-centred telephone fundraising following recent developments in the sector.
"I have known many of the fundraisers in Dunfermline for years and we were immediately able to recruit 30 of the highest performing and most experienced fundraisers. This gave us the opportunity to move quickly not only to meet immediate client needs but to avoid losing the large talent pool in Dunfermline and to invest in the local area.
"These fundraisers are so passionate about the causes they represent and many have a decade of experience in high quality fundraising and excellent results. It's a joy to be working with them again."
Challenging conditions for telephone fundraising
Following the demise of R Fundraising and the unrelated closure of GoGen with the loss of 485 jobs amid the criticism of some fundraising practices by The Daily Mail, telephone fundraising is facing considerable challenges.
Clayton said that Karat would achieve excellent quality in telephone fundraising having recruited "the best callers" and by being "driven by compliance, data, creative services and training for staff, fundraisers and clients".
He said:
'We are set up for 100% compliance with the codes from day one and Dialogous bring us years of experience in data management and selection through their specialism in high value, niche telephone fundraising.
'The Karat training programme for fundraisers and clients will draw on the experience of the team in Dunfermline, Dialogous caller training and the 'excellence in fundraising' training developed by Revolutionise over the last five years.
He added that:
"In the start-up phase, until the end of December, we will provide training for clients and creative work for telephone fundraising campaigns free to existing and new clients".
13 total views, 1 views today