Local fundraising driven by better data
Like many other charities in the UK we have ambitious fundraising plans in place to grow income so we can increase our reach. Our current fundraising strategy is designed to increase our voluntary income from £1m to £3m by 2016/17.
As part of our strategy to achieve our income growth, we have deployed a CRM, membership management and fundraising solution from Advanced NFP, to streamline our data and achieve a single view of Beating Bowel Cancer's supporters from fundraisers through to patients and their families.
Improving local community fundraising
With our systems in place and our already loyal base of supporters on a national level, we are now looking to the future. We asked the question – how can we engage with fundraisers and volunteers at a local community level? How can this audience contribute towards the growth of Beating Bowel Cancer?
With only one office based in London, our work is supported by home based community fundraising staff deployed across the country with community fundraising a primary source of income.
Value of remote access to data
To achieve our ambitious goals to increase income, we identified the potential to develop a community of volunteer fundraisers, supported by strategically deployed staff, with the focus on identifying people affected by bowel cancer (survivors and those who have lost a loved one) who want to fundraise in their local community. By using the remote access functionality within Advanced NFP's solution to support our efforts in this area, home-based staff can now access the solution whilst out in the field, gaining insight into where engagement is happening with donors and where fundraising efforts are succeeding.
Remote access is also eradicating the common issue of information silos held in multiple local databases. Home-based Community fundraisers record all data directly into the central solution, ensuring all information is recorded in one place, in real time and is completely up to date. Remote access is proving to be a real strength for Beating Bowel Cancer, ensuring we can scale and grow regionally.
Advertisement
Segmentation improving engagement with supporters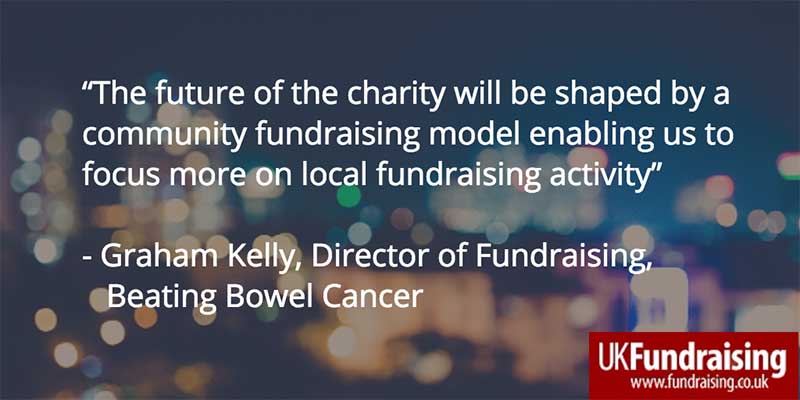 As the charity grows we can continue to recruit more staff on the ground and be confident that they have the necessary support and infrastructure at their finger-tips to ensure they can do their job effectively. We can now interrogate our supporter data and define regions by postcode, therefore having a view of each region and the corresponding staff member responsible for it. Supporters can be segmented based on where they live and whether they are a patient, friend or relative. This is invaluable when it comes to engaging with supporters; it allows local staff to develop a targeted and relevant localised engagement approach.
We are confident that the future of the charity will be shaped by a community fundraising model enabling us to focus more on local fundraising activity, whereby we build localised communities around bowel cancer and all those affected by the disease.
Simultaneously, we are developing an online Community where we can view all of our contacts from patients through to fundraisers, see fundraising activities locally on a map and integrate this with our online patient forum. The CRM and membership management solution from Advanced NFP will be fundamental to the success of this future initiative, enabling us to have a holistic view of everyone geographically.
Insight is at the heart of Beating Bowel Cancer's data driven operations, enabling us to manage everything from patient records through to specific fundraising and financial management. Our vision for the future is to ensure that we support and facilitate the patient-survivor- fundraiser journey so we support many more people affected by bowel cancer whilst growing our income to meet this need.
Graham Kelly is Director of Fundraising at Beating Bowel Cancer.

Main image: You are here by Zudy on Shutterstock.com