Irish entrepreneurs give views on philanthropy
A new report on Irish entrepreneurs views of philanthropy show that most give in some way to charity but not all give financially.
Giving & Gaining: How Entrepreneurs View Philanthropy in Ireland was launched by The Community Foundation for Ireland. The study is based on independent research supported by AIB Private Banking and undertaken by Sia Partners in 2014.
"One in eight entrepreneurs do not give financially"
Over fifty entrepreneurs completing an online survey and 15 subsequent interviews were carried out with entrepreneurs and key informants.
Although 96% of respondents indicate that they give in some way (through financial donations or by giving time and expertise), one in eight entrepreneurs do not give financially.
Some respondents expressed themselves uncomfortable with the term 'philanthropy' as it appeared elitist and not aligning well with Irish culture. Nor do entrepreneurs see philanthropy as a topic that comes up regularly amongst their peers, according to the research.
The report also provides interesting insights into how entrepreneurs view the environment for philanthropy with almost all of the interviewees identifying ways in which the environment could be made more supportive in Ireland.
Factors such as changes in tax legislation, attitudes to successful people and the lack of efficient and accountable interlocutors were identified as examples of the shortcomings.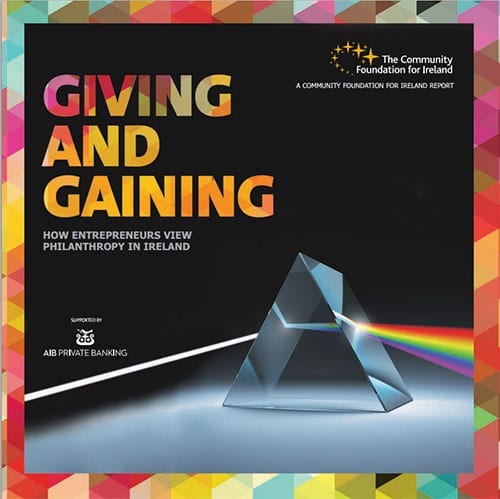 Communication preferences
Entrepreneurs had a strong preference to be communicated with on philanthropy via contact through peer and business networks, as well as through philanthropic intermediaries such as the Community Foundation for Ireland.
The report makes a number of recommendations arising from direct suggestions by respondents in the areas of donor services, the non-profit sector and public policy.
Copies of the report can be downloaded from the Community Foundation's website or at philanthropy.ie's website.

Advertisement