Tony Elischer, fundraising thinker, practitioner and adviser, has died following a battle with cancer.
His death on 12 January was announced today via THINK Consulting Solutions, the agency he founded in 2001. The Institute of Fundraising, of which he was a Fellow, paid tribute to him not just for what he had achieved for charities in the UK and around the world but for his contribution to the development of the fundraising profession.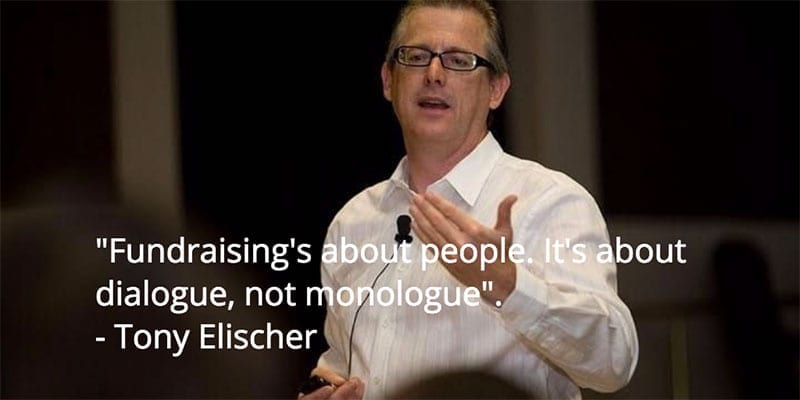 Peter Lewis, CEO of the Institute said:
"It is hard to imagine the fundraising world without Tony. His enormous warmth and personality filled any room; his endless passion to make the world a better placed flowed into those around him; and he never ceased wanting to innovate and do things better."
He described him as:
"A friend to many of us, a true friend to the Institute over many many years, and one of the leaders of the fundraising sector around the world".
He added:
"It is very difficult to put into words how much he will be missed both here and abroad".
Richard Taylor, Chair of the Institute, and Director of Marketing and Fundraising at Macmillan Cancer Support said:
"Tony was a true pioneer of fundraising as we know it today. In his early career as a practitioner he paved the way for the future success of the charities he worked for, including what is now Cancer Research UK. He was a truly inspiring fundraising Director. His extraordinary personality enabled him to inspire fundraisers young and old throughout his career. As a personal friend I will miss him enormously but it's his impact across the entire sector where he was so admired and loved that he will be so missed."


Elischer worked for Help the Aged (now Age UK) and the Imperial Cancer Research Fund (now Cancer Research UK). He developed a particular interest in the near future of fundraising – what technology, research or business practice could help transform fundraising further?
Supporter and defender of fundraising
Elischer was an active supporter of the fundraising profession and its professional membership body in the UK, the Institute of Fundraising – or the Institute of Charity Fundraising Managers as it was originally named. He was recognised for his service by being elected a Fellow of the Institute. Peter Lewis paid tribute to this support, saying:
"He never ceased to be a true friend to the Institute of Fundraising… over the whole of its history, whether fronting inspiring plenary sessions at Convention, supporting young and up-and-coming fundraisers; or simply acting as a wise counsel and mentor to many that met him, with his unique style of encouragement and enthusiasm."
He worked with charities in many countries, and was a popular speaker at fundraising conferences around the world, from the International Fundraising Congress in Holland to the AFP Conferences in the USA and Canada.



Elischer is included among fundraising pioneers on this mural marking the achievements of the Resource Alliance.

He channelled some of his agency's income to help develop the fundraising profession. He established the THINK Foundation to support the understanding and development of fundraising skills in the not for profit sector around the world.
Elischer in action
Here is Tony delivering the plenary at the 2013 National Fundraising Convention in London.

[youtube height="450″ width="800″]https://www.youtube.com/watch?v=NR-Ngjmzjd4[/youtube]



Tributes to Tony Elischer
The warmth and respect felt towards Elischer is demonstrated by comments, tweets and blog posts from fundraisers around the world.
The Resource Alliance devoted the front page of their website to him:


I didn't know @tonyelischer well, but my God I'll remember his presentations. Added deafening inspiration to any conference he touched.

— Simon Scriver #FundraisingEverywhere (@ToastFundraiser) January 14, 2016
Gutted by the news of @tonyelischer passing away. My friend, my mentor, my inspiration. You will be sorely missed.

— Beate Sørum (@BeateSorum) January 14, 2016
The fundraising profession today mourns the loss of Tony Elischer @tonyelischer – guru, friend and colleague. https://t.co/nKImEwhnac

— Guy Mallabone, CFRE (@AskMuscle) January 14, 2016
Sending love to all fundraisers. Here's @tonyelischer as he'll always be in our hearts. @DavidHLove #aogsocial pic.twitter.com/94lf398SkA

— Jen Love ❤️ Agent of Good (@agentjenlove) January 14, 2016
Remember huge impact of @tonyelischer in time at Tearfund and Maggies Centres and mega conference sessions. Sad to lose #fundraising #guru

— Gavin McLellan (@Gav_McLellan) January 14, 2016


https://twitter.com/mbtmbtmbt/status/687640384290177024

@tonyelischer will open a good red tonight. Such support and friendship. Thoughts with Nicky. https://t.co/kKXm539VcG

— S c o t t . G r a y (@scottgray_uk) January 14, 2016


https://twitter.com/AstaritaMark/status/687664552440393728

So sorry to hear loss of @tonyelischer His wisdom on Celebrating Failure inspired me to take more risks & be always better @ukfundraising

— Ann Rosenfield (she/her) (@AnnBRosenfield) January 14, 2016
deeply saddened by the death of @tonyelischer – friend, career advisor & confidante, agitator, fundraising champion & all round good guy. ❤️

— Holly Spiers (@holly_spiers) January 14, 2016
Sad loss @tonyelischer Fought illness Tony-style. Fondly remembered thinker, sharer, inspirational speaker with boundless energy of Tigger

— Martin Jervis (@mjervis) January 14, 2016
Join me in honouring a #charity sector champion, thought-leader, mentor + friend. #rip @tonyelischer https://t.co/vDU8Wegtr1

— Tania (Tova) Little, CFRE, CSR-P (she/her) (@tanialittle) January 14, 2016
So very sad to hear about the loss of @tonyelischer – a inspiration to me as well as a kind friend to @BDCH's animals. We will miss you x

— Liz Tait ? (@liztait) January 14, 2016
#TBT to when I convinced @tonyelischer to stand on a giant red canoe in Terry Fox Park. He loved it. #RIP pic.twitter.com/3zH0lfbhHO

— Brock Warner, CFRE (@brockwarner) January 14, 2016
We're very sad to hear about the loss of @tonyelischer he has been an inspiration to us. He will be missed. pic.twitter.com/OwbRhNEBQb

— FundraisingOkulu (@fundraisingokul) January 14, 2016


https://twitter.com/RoxyMartinique/status/687623205549391872

Very sorry to hear of the death of @tonyelischer Privileged to have enjoyed many of his great sessions at #InternationalFundraisingCongress

— Bruce Clark (@BruceSCClark) January 14, 2016
RIP @tonyelischer. We lose another passionate and creative human being.

— Steve Bridger (@stevebridger) January 14, 2016
Out thoughts are with family and friends of @tonyelischer. One of the greatest #fundraising minds of our time has passed away. RIP Tony.

— 101fundraising (@101fundraising) January 14, 2016
— Simon Scriver #FundraisingEverywhere (@ToastFundraiser) January 14, 2016
Here's a photo of the soon-to-be-much-missed Tony Elischer (UK) who left us two days ago @DavidHLove @howardlake pic.twitter.com/EqV1Lp5Y3S

— Natasha van Bentum (@GiveGreenCanada) January 14, 2016


https://twitter.com/MarkFlannCEO/status/687655887381643268

@tonyelischer an unfair death. Think life, think Tony. Think fundraising, think Tony. Think big, think Tony. Think laughter, think Tony

— Richard Radcliffe (@Richardradclif) January 14, 2016
Fundraising has lost a true champion. RIP @tonyelischer. Our thoughts with his family and friends.

— The SOFII team (@SOFIIisHOT) January 14, 2016
Its with great sadness to hear the passing of 1 of the great #fundraising minds @tonyelischer Our thoughts are with his family and friends.

— Fundraising Ireland (@Fundraising_Ire) January 14, 2016
Very sorry to hear of the death of @tonyelischer he was very supportive to me when a rookie CEO. RIP Tony

— Patrick Nash (@pnashconnect) January 14, 2016
Will profoundly miss Tony Elischer. His relentless pursuit of the magic in fundraising will never, ever leave me. Simply the world's best.

— David Love (@DavidHLove) January 14, 2016
Tremendously saddened to hear of the loss of sector giant + guru Tony Elischer. Your huge brain, insights + humour + kindness will be missed #RIP Sending condolences to his family and the THINK team.
Posted by Tania Little on Thursday, 14 January 2016

A month or so before his death, the quirky @TheNiceBot tweeted appropriately:
@tonyelischer You are the best EVER. #TheNiceBot

— The NiceBot (@TheNiceBot) December 9, 2015
"He was forever curious, constantly striving for the best for the fundraising profession and the sector as whole and very, very genuinely cared for the people who worked in our great profession. For all his well deserved "international guru" status it was often Tony that helped make sure some poor lost soul who had several more than one too many at event like the IFC got taken care of".
Daryl Upsall
"Tony was an amazing fundraiser, dedicated and inspirational. We grew up together in this profession and worked together from the start of our careers – he at Help the Aged and me at The Spastics Society. This is such a loss and a struggle to accept".
Bill Bruty
"In my books Tony was the number one fundraiser in this world. I had the pleasure working with Tony to bring fundraising knowledge to thousands of fundraisers at Resource Alliance events in Africa, Asia, Latin America and Europe. Tony did so brilliantly in his own inimitable and enthusiastic style. Harold Sumption taught us that "fundraising is a warmhearted affair". Tony brought that message to life and pushed us to reinvent fundraising. All of us fundraisers in this world of ours owe Tony a great dept of thanks".
Per Stenbeck
"It must have been around 25 years ago that Tony and I sat in a room together and wrote the first ever CFR course for the then ICFM. Realising how much of his input still stands as best practice in the 2016 programme was rather fitting – his legacy will live through so much of our day to day fundraising in not just the years ahead but decades".
Valerie Morton
141 total views, 5 views today
142 total views, 6 views today