Local charities are 'stretched to capacity' says Localgiving
Local charities are continuing to experience a demand in services but few feel they have they funds to meet this, according to research for online giving platform Localgiving. More than half of them are not confident they will survive the next five years.
Its Local Charity & Community Group Sustainability Report, which surveyed 538 local voluntary sector organisations from across the UK, reports that:
• 81% of local charities are facing an increase in demand for services. However, only 15% of those feel they have enough funds to deal with this.
• 73% of local groups expect their annual income to either decrease or remain stagnant over the coming financial year.
• 59% of them say income generation is their most pressing issue
• 42% of groups have had to use their reserves in the last 12 months
• 43% are concerned about a lack of reserves
• only 4% are in a position to prioritise building financial reserves.

Raising funds is a major concern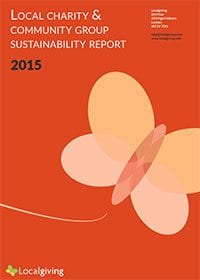 The report makes it clear that fundraising is the most urgent concern for the local charities surveyed. Apart from facing income challenges, many small charities face the additional challenge of feeling they can't rise to the problem: 76% of local charities believe they do not currently have the skills to run a successful fundraising campaign.
But they know the consequences if they do not tackle this: 53% of respondents say they know of at least one other local charity in their area that has closed for financial reasons in the last year.

Grow Your Tenner

The study's publication coincides with the launch by Localgiving of Grow Your Tenner, a national matched funding campaign that doubles online donations made to UK local charities and community groups by up to £10. Localgiving is also matching monthly donations up to £10 per month for 3 months.
Grow Your Tenner runs from 10am on 13 October 2015 until the match fund is fully allocated, or 5pm on 18 November 2015, whichever comes first. The campaign offers each local group taking part the opportunity to access up to £10,000 of matched funding.
The campaign is part of Localgiving's Incentivised Giving Programme, a long-term initiative to help raise awareness of the sector and build practical online fundraising skills for local charities.
Stephen Mallinson, Chief Executive of Localgiving said:
Advertisement
"A rapid increase in demand for services, coupled with an inability to access sufficient funding with which to build reserves has left many local groups with fears over their survival. The sector is lacking in both time and resources, leaving charities unable to invest in alternative income sources, training and volunteer recruitment. Without significant targeted intervention, fewer and fewer organisations will be able to continue their valuable work, weakening communities and leaving huge numbers of vulnerable beneficiaries at risk…
"Localgiving is working to implement initiatives, such as Grow Your Tenner, to address the problems highlighted by this report. Our hope is that through these programmes, we can help to raise awareness and provide motivation for greater engagement and support to safeguard the future of local charities and the beneficiaries they serve."