Commission on the Donor Experience to "put donors back at the heart of fundraising"
Commission on the Donor Experience to "put donors back at the heart of fundraising"
Over 160 fundraisers and academics have backed the establishment of a Commission on the Donor Experience in an effort to help identify best fundraising practice that will put donors at the heart of British fundraising.
The Commission, proposed by experienced fundraisers Ken Burnett and Giles Pegram CBE, is an attempt to reform the fundraising profession in the wake of months of criticism of some fundraising techniques by several newspapers, politicians and the public, including donors.
By identifying best practice and sharing examples so that they might become common practice, the Commission's founders aim to restore public trust in fundraising and charities.
Its terms of reference are "to increase both funds raised and donor satisfaction by appealing to the feelings, thoughts and desires of donors as well as emphasising the needs of the charity".
Burnett and Pegram argue that:
"The best defence of fundraisers and fundraising is to put our donors' interests firmly at the heart of everything we do. Our aspiration is that every communication with or to the donor will make him, or her, feel better than before the communication, so enhancing the pleasure and satisfaction that comes from being a donor as well as improving each donor's lifetime value to the cause".
What will it do?
The Commission on the Donor Experience will focus on:
• distilling and defining our best understanding of what donors want and how they feel.
• identifying practical things fundraisers can do to ensure donors stay at the heart of all their actions.
• sharing and communicating that experience far and wide.
• ensuring a better experience for new donors at and around the time of their first support.
• looking at training and equipping all fundraisers to deliver the best practical donor experience. It will seek to define the skills, attributes and personal qualities they'll need.
• considering not just the body of existing knowledge, but also what we don't yet know – how we might innovatively reinvent the donor/cause relationship.
It will draw on existing research and soon-to-be-published research, and might, depending on resources, commission its own research to inform its analysis.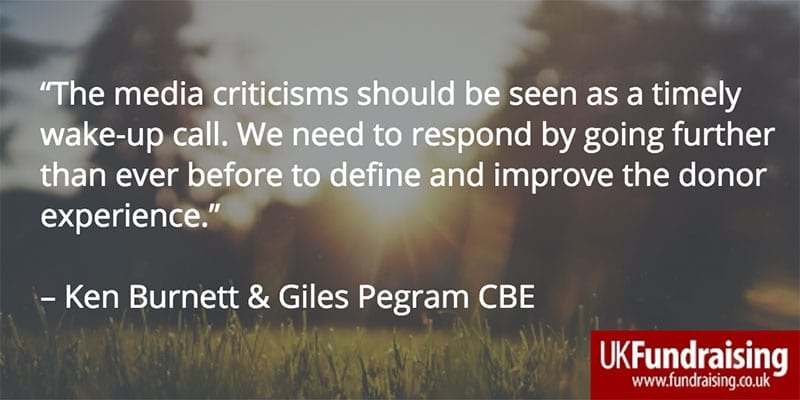 Who will be part of the Commission?
Martyn Lewis, CBE has agreed to chair the Commission and Giles Pegram will be the vice chair. Work is underway to select the remaining 10 commissioners.
A Director and researcher/assistant will also be recruited. The initiative has already attracted some funding from sector bodies to cover these costs.
In order to protect the independence of the Commission, individual charities will not be asked to sign up. Nor will any special interest groups, suppliers or sector bodies be able to have any official affiliation to the Commission.
Support for the Commission
Work on establishing the Commission has been underway since the week-long series of reports and allegations about some fundraising practices by The Daily Mail in July.
Its development has been welcomed by several sector bodies, including the Institute of Fundraising. It was mentioned twice positively in the report by Sir Stuart Etherington and his review colleagues, Regulating fundraising for the future: Trust in charities, confidence in fundraising regulation. For example, on page 12 in the executive summary:
"we welcome any move that shifts fundraising away from aggressive or pushy techniques and instead towards inspiring people to give and creating long-term, sustainable relationships."
Setting up the Commission
The Commission's founders are being helped by an "enthusiasts group" which is taking on some of the practical tasks of establishing the Commission and acting as an advisory and steering body.
Another group is working on raising the funds necessary to establish and sustain the Commission.
Both Pegram and Burnett invited fundraisers and those with an interest in furthering the Commission's objects to volunteer their time and services.
A website for the Commission is under construction and will be available soon.
Burnett and Pegram summed up the reason they had proposed the Commission, saying:
"the media criticisms should be seen as a timely wake-up call. We need to respond by going further than ever before to define and improve the donor experience".
Get free email updates
Keep up to date with fundraising news, ideas and inspiration with a weekly or daily email. [Privacy]
* We do not share your email or personal details.