8 charity singles competing for the 2014 Christmas number one
Charity singles that are aiming to raise funds and reach the number one spot in the Christmas 2014 charts are starting to appear.
1. God Only Knows
BBC Children in Need is benefiting from a version of The Beach Boys' 1966 song 'God Only Knows'. It was recorded by 27 singers, musicians and performers, together with the BBC Symphony Orchestra.
[youtube height="450″ width="800″]https://www.youtube.com/watch?v=XqLTe8h0-jo[/youtube]

2. Say Something
Actor Samuel L Jackson has called in a few favours from musicians to record a single to raise funds for One for the Boys, a men's health charity that he supports.
The single will be a cover of A Great Big World's hit Say Something. Musicians and performers said to be involved include Sir Paul McCartney, Tinie Tempah, Paloma Faith, and Jennifer Hudson.

Advertisement
3. Steadfast
[youtube height="450″ width="800″]https://www.youtube.com/watch?v=u5dszSU0tcA[/youtube]
Steadfast has been released by Classic FM to raise funds for Global's Make Some Noise, a charity backed by the radio station that helps children and young people with problems such as physical and mental disabilities, cancer and bereavement.
It was composed by the station's composer-in-residence Howard Goodall and includes performances from singers Katherine Jenkins, Alfie Boe and Laura Wright, from Milos on the guitar, and Myleene Klass on the piano. Presenter John Suchet also takes part on his trombone.


The single costs 99p and is available on iTunes.

4. Real Love
Tom Odell's cover of John Lennon's Real Love is the soundtrack to John Lewis' Christmas TV advert featuring #MontyThePenguin. All proceeds of the CD sales will be donated to WWF's Adopt a Penguin programme.
[youtube height="450″ width="800″]https://www.youtube.com/watch?v=iccscUFY860[/youtube]

5. Try
Waitrose's Christmas TV advert uses a version of Dolly Parton's Try which was recorded by members of the public who responded to the Donate Your Voice appeal.
All profits from the sale of the song will be divided between Age UK, The Trussell Trust, and Great Ormond Street Children's Hospital.
[youtube height="450″ width="800″]https://www.youtube.com/watch?v=ypQh8uZ8pSo[/youtube]

6. Do They Know It's Christmas 30
[youtube height="450″ width="800″]https://www.youtube.com/watch?v=0D2stoT0k0A[/youtube]
Band Aid is back to mark the 30th anniversary of this fundraising campaign, and with a new roster of singers.
One Direction will be joining in, as will Bono (who will sing the same line he sang in the 1984 version), and Ed Sheeran, Emili Sande.
This will be the fourth recording of the single. This time the funds raised will be used to counter the Ebola outbreak in West Africa.
The recording will take place on 15 November with the single on sale two days later. Bob Geldof described the new single as "the worst kept secret in the world" at a press conference in London.



There is also an app (on iOS and Android). The app is free to download but you then have to make a one-off donation in order to access the content.
YES! Check out all the artists that will be featuring in the #BandAid30 song this Christmas – http://t.co/cKx9yFw9VW pic.twitter.com/ZtaahnJM3T

— The Hits (@thehitsofficial) November 12, 2014


Added 17 November 2014:
[youtube height="450″ width="800″]https://www.youtube.com/watch?v=i1jeiC-JEsI[/youtube]

7. All Together Now

The team behind 2012's Christmas No.1 by The Justice Collective are producing a new version of The Farm's 1990 hit 'All Together Now' which will raise funds for the British Red Cross and the Shorncliffe Trust.
The song will be performed by music performers and young footballers from the Premier League, performing as 'The Peace Collective'. It is being executively produced by Suggs (who produced the 1990 original) and Mick Jones of The Clash.
It is designed to mark 100 years since the Christmas Day Truce on the Western Front during the First World War.
It will be released on 15 December.

8. Wake Me Up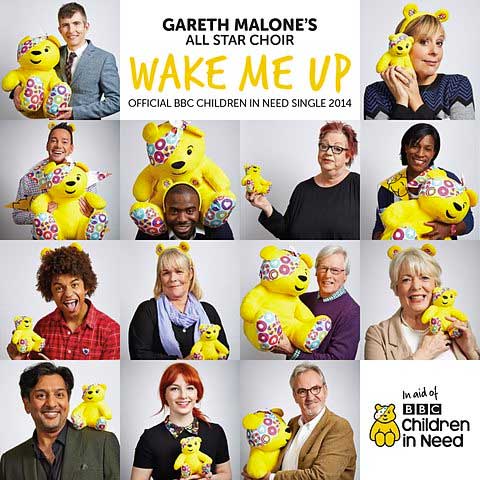 Choirmaster Gareth Malone has assembled an "All Star Choir" to record Avicii's Wake Me Up which will be the official BBC Children in Need single for 2014.
Actresses Alison Steadman and Linda Robson perform together with John Craven, Jo Brand, Larry Lamb, Fabrice Muamba and others.
[youtube height="450″ width="800″]https://www.youtube.com/watch?v=2ghScc6KDD0[/youtube]

Have we missed any charity singles aiming for the top spot this Christmas? Let us know in the comments below.