Fundraising campaigns with a New Year theme
The New Year offers plenty of opportunities for fundraising campaigns that highlight turning over a new leaf, making a resolution, clearing out the cupboards, or getting fitter. Cancer Research UK's Dryathlon, now in its third year, is one of the most high-profile.
Here are some other examples.
1. Oxfam's Tag Your Bag scheme

Oxfam is encouraging its supporters to clear out their wardrobes and sort through their unwanted Christmas presents and donate them to the charity via its shops.
"There's never been a better reason to start the New Year with a clear out. Sign up to Oxfam's Tag Your Bag scheme, and donate your unwanted Christmas presents and pre-loved items to Oxfam and we can turn them into something that can help change people's lives."

Advertisement
It is offering the incentive of earning Nectar points.
"For a limited time you have the opportunity to collect not only 100 bonus points for signing up, but also 100 bonus points when your first item sells. But hurry because your items must sell before the end of February in order to qualify for this offer!
After this you will continue to collect 2 points per £1 on the sale of your other donated items. Plus, every time one of your items sells, Oxfam will make an extra 25% thanks to Gift Aid*. Start donating and collecting today!"
 2. British Red Cross' Clean Start Appeal

The British Red Cross' first appeal of 2015 focuses on the one change that millions of people around the world would like for the new year – access to clean, safe water.
The Clean Start Appeal focuses on the example of Risper, a Kenyan mother, who says: "

The one wish I have is to be given clean water."


Individuals' donations to the appeal will be doubled through match funding from the government's UK Aid programme. Specifically, all

 public donations made to the Clean Start Appeal from 4 January to 3 April 2015 will be doubled by the UK government up to £5 million. This includes the sale of all goods donated from 4 January to 3 April 2015. Goods must be sold by 18 April 2015. 
3. British Heart Foundation's free furniture and electrical collection service
[youtube height="450″ width="800″]https://www.youtube.com/watch?v=4NAjNRuzo8k[/youtube]
British Heart Foundation is hoping to capitalise on the nation's efforts to clear out its cupboards in the New Year. It is even offering a free collection for the more valuable items that it can sell in its electrical and furniture shops,

4. British Red Cross's Team Red Cross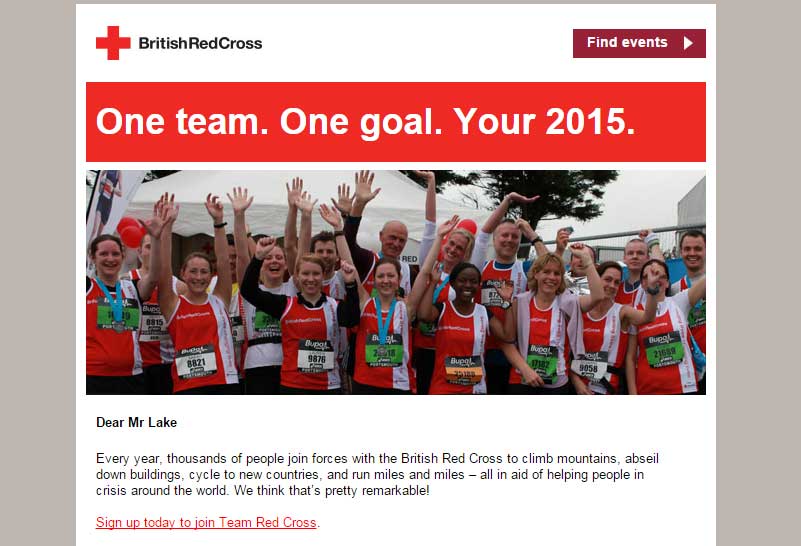 The British Red Cross is also using the New Year theme to encourage more people to get involved in its fundraising events by joining Team Red Cross.
It flags up  its Ben Nevis weekend adventure, Red Shoe Walks and the new Olympic Park Orbit Abseil.
Its events team said:
"Join Team Red Cross and we'll give you all the help and motivation you need to reach your goal. Have a look [… ] to find your 2015 adventure".
5. Colchester Arts Centre's Big Unwanted Christmas Presents Festival Fundraiser

Colchester Arts Centre's Big Unwanted Christmas Presents Festival Fundraiser on 17 January relies on the fact that plenty of us receive Christmas presents that we don't need or want. So, the organisation hosts an annual January fundraising event to help Colcestrians clear out their clutter and raise funds for the arts organisation.
Donors are asked to bring their goods anytime to the venue during Saturday 17 and Sunday 18 January. "The idea is we put all this marvellous old tut and sparkly unwanted pressies on the magic eBay, sit back and party on Saturday night."
* Does your charity have another take on the theme of New Year that it is using for a fundraising campaign? Tell us in the comments below.
Main photo: 2015 by Laboko on Shutterstock.com